Reasons You Would Need Mobile Home Roof Repair
In the southern states, hurricanes are very destructive. In the Midwest and Northern states, it is heavy snows or tornadoes. Weather damage is usually the reason for mobile home roof repair.  However, sometimes it is just normal wear throughout the years that can make this type of roof repair necessary.
Mobile Home Roof Repair Kits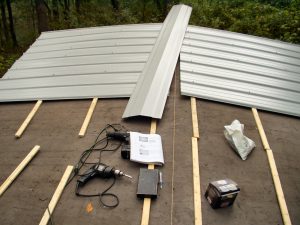 These roof repair kits are easy to find and just as easy to use. However, if you do get a bit confused, there is a how-to video included in the kit. This makes it much easier to do the work yourself so that you can save thousands of dollars on your roof repair. Everything that you will need is included in the kit. Just make sure that you clean the roof before you begin so that the adhesive will stick properly.
Once you get the repair work done, you might consider going over the entire roof with a coat of white mobile home roofing sealant. This can save a lot of money on your electric bill.
Sometimes there is only a little damage and only minor repairs will be needed. But if you do need to replace the entire roof, there are kits for that as well.  These come with instruction videos as well. Make sure that you have a couple of days to do the work as the adhesive and caulking will have to dry before proceeding further.
You will need an extension ladder to check your roof for any leaks or cracks. Sweep the roof off to make sure that it is completely free of debris. Checking the roof in sections is a much easier way to make sure that you do not miss any areas. You can mark each section with chalk to avoid going over the same spot twice. Use cement that is made especially for mobile home roofs to close any holes and let it dry for at least a day. A glass fiber product is made for any cracks or holes that are larger than one-fourth of an inch. This will help strengthen the repair that you are doing.
Once you have filled all of the damaged spots, go over the entire roof with a roof coating. As mentioned above, this will not only help to reinforce these areas but will help to reflect heat better too. It is always best to apply two coats of this coating.
It is so very important that these repairs be done as quickly as possible. Leaks can ruin the entire inside of the mobile home as well as cause growth of mildew. You're furniture and clothing will be ruined if this happens. Without quick attention to leaks, the paneling of the walls could start to rot as well as your carpet. Mold and mildew growth can also cause severe health problems.
So check your roof at least twice a year for leaks and other damage to the roof to save you a lot of headaches.  If you do your mobile home roof repairs in a timely manner, you will avoid these horrible problems.